Many travelers understand how hotel elite status can help improve their stay. Bonus points, potential room upgrades and other welcome amenities make the experience that much better. If you don't already have status with a brand where you have an upcoming trip, it may be worth considering a status match to that hotel's loyalty program.
Wyndham Hotels & Resorts offers an elite status match program that might make sense if you have an upcoming stay at one of its brands. Here's what you need to know if you are considering matching an existing elite status to a similar tier in Wyndham Rewards.
Where can you find Wyndham?
More than 9,000 Wyndham Hotels & Resorts are available in nearly 95 countries; it is the world's largest hotel franchising company and brands include:
Hawthorn Suites by Wyndham.
Wyndham Rewards also encompasses a large number of vacation rental properties under brands like Margaritaville Vacation Club by Wyndham and Vacasa.
It also has a partnership with Caesars Rewards giving members benefits at brands including Caesars, Harrah's, Planet Hollywood and many others.
The program offers the ability to earn or redeem points for a stay. Depending on where you stay, the value of a Wyndham Rewards points redemption will vary. NerdWallet values Wyndham points at 1.1 cents each, so you want to aim to get at least that much if you're redeeming points. But, having elite status may help elevate the experience.
How Wyndham status matches work
Loyalty programs may allow members to earn elite status in their own program by demonstrating they have similar status in another program. You'll need to prove that you have that other status for Wyndham to process a match. Check this link to see if there are Wyndham status match offers currently open.
Some of the hotel loyalty programs that participate in Wyndham's status match include:
If you have certain levels of elite status in any of the above programs, you may be eligible to receive Wyndham status. Wyndham Rewards publishes a chart that explains what status a member would receive depending on the existing status they have with an eligible program. For example, a Marriott Bonvoy Gold Elite or Hilton Honors Gold member, both mid-range tiers, would match to Wyndham Rewards Diamond status, Wyndham's highest.
You'll need to sign into your Wyndham Rewards account to complete the form (or join the program first). It takes five to seven days for verification before you are approved.
How long will Wyndham Rewards status last?
The tier you receive through a Wyndham status match will be effective for a varying amount of time. Those that receive Gold status will be able to keep it for the entire year as well as the following year after the status match. Those that match to Platinum or Diamond, however, will have to complete a status challenge to maintain it beyond 90 days.
This means that if you want to use this for a particular stay, be sure that you apply for the match within 90 days of your stay to take advantage of it. If you want to keep it, Platinum members will have to stay seven qualifying nights to keep it through the end of the following year. Diamond members can keep it through the end of the next year after staying 14 qualifying nights.
The best benefits are reserved for Platinum and Diamond tiers. Platinum members earn a 15% bonus on points when staying at a Wyndham property plus the option for late checkout and a preferred room choice. Diamond members get similar benefits, but added perks like:
A 20% bonus on points earning.

A welcome gift at check-in.

The opportunity to gift Gold to someone else.
How often can you do a Wyndham status match?
A member can apply for a Wyndham status match once per calendar year only.
You may already have hotel elite status and not realize it
Some travel cards come with automatic elite status like The Platinum Card® from American Express, which includes Gold Elite status with Marriott and Hilton Honors Gold status as a perk. Enrollment required. Terms apply. This could make it easy to match to Wyndham if that's where your upcoming stays are.
What to do if you don't have hotel elite status elsewhere
There is another path to Wyndham elite status that doesn't involve any status match program. Wyndham Rewards-affiliated credit cards come with elite status including the no-fee Wyndham Rewards® Earner℠ Credit Card, which comes with Wyndham Rewards Gold status.
NerdWallet rating 
Learn More
5x points when staying with Wyndham.

2x points when using it at restaurants and grocery stores.

1x point on every other dollar spent using the card.
6x points when staying with Wyndham.

4x points on restaurant and grocery store spending.

1x per dollar on everything else.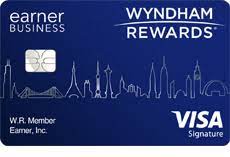 NerdWallet rating 
Learn More
8x points at Wyndham properties.

5x points on marketing, advertising and utilities spending.

1x per dollar on everything else.
A Wyndham status match is easier than you think
While not always available, completing a Wyndham status match may be easier than you think. Of course, be sure the benefits you are looking for are part of the status that you would receive in the match program. Some elite tiers don't include things like suite upgrades or welcome amenities. A status match or applying for the right Wyndham credit card can be an easy (and expedited) way to get more value from your next stay with Wyndham.
How to maximize your rewards
You want a travel credit card that prioritizes what's important to you. Here are our picks for the best travel credit cards of 2022, including those best for: