The New India: India is set to become the world's third-largest economy and stock market by the end of this decade, a global brokerage firm Morgan Stanley believes, while decoding the factors that could aid the rise of the country's economy and equity markets
India is gaining power in the world economy, and in Morgan Stanley's opinion these idiosyncratic changes imply a once-in-a-generation shift and an opportunity for investors and companies, the brokerage firm noted advising market participants.
While citing factors, Morgan Stanley said, "India has the conditions in place for an economic boom fuelled by offshoring, investment in manufacturing, the energy transition, and the country's advanced digital infrastructure."
These drivers will make it the world's third-largest economy and stock market before the end of the decade, the brokerage estimated.
India's economy is forecast to grow by 7 per cent this year, making it the 5th largest in the world, the International Monetary Fund (IMF) says. It was the world's 11th largest economy a decade ago. The IMF sees India having the world's 4th highest GDP (Gross Domestic Product) by 2027.
The New India will drive a fifth of global growth through the end of this decade, led by:
Offshoring: The pandemic only enhanced India's attractiveness as the office to the world, along with government incentives – are allowing India to gain traction as a factory to the world as well.
Digital differentiation: India is pursuing a distinct model for the digitalization of its economy, supported by a public utility called IndiaStack, which operates at population scale, is a transaction-led, low-cost, high-volume, small-ticket-size system with embedded lending.
Energy transition: While the first two drivers are unique to India, the world has seen energy transitions before. The difference for India is that both its energy consumption and energy sources are changing simultaneously in a disruptive fashion.
How growth will affect consumption
Consumer discretionary spending is gaining a share in total consumption, as per-capita GDP has crossed the important US $2,000 mark. India's income pyramid offers a unique breadth of consumption, in brokerage's view, with top-end spending.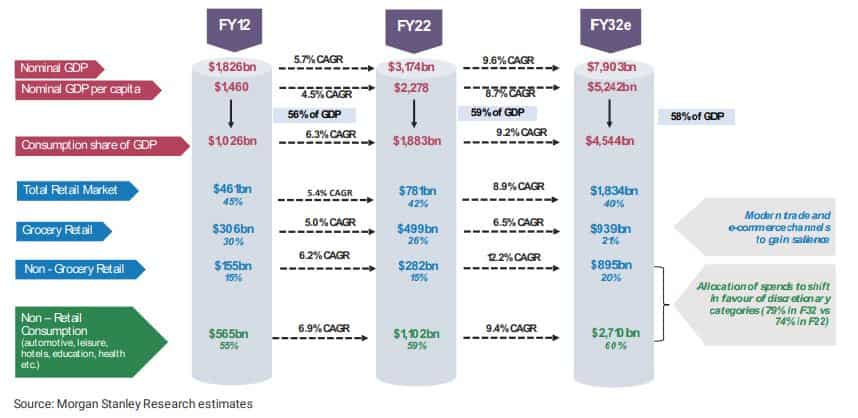 The number of households earning more than US$35,000/year is likely to rise fivefold in the coming decade, to over 25 million. The implications are GDP is likely to cross US$7.5 trillion by 2031, more than double the current level, a discretionary consumption boom, and 11 per cent annual compounding of market capitalization to US$10trn in the coming decade.