Domestic equity markets ended on a negative note on Thursday. The BSE Sensex closed at 57,235.33 on the day of expiry, down by 390.58 points or 0.68 per cent from the Wednesday closing levels. In the 30-share index, 22 stocks settled in the red while remaining 8 were in green at the closing time. Out of the 3,562 stocks that traded on the BSE, 1,246 advanced, 2,203 declined while 133 remained unchanged. 114 Stocks hit their-52-week highs while 70 fell to 52-week lows. 
 Source: BSE
Meanwhile, 12 stocks advanced, 36 declined while 2 remained unchanged in the 50-stock Nifty50. Out of the 15 sectoral indices, 4 settled in the green while 11 were in the red at the closing time. Nifty Media  (up 0.27 per cent), Nifty Pharma  (up 0.22 per cent) and Nifty Healthcare Index (up 0.21 per cent) closed positively. The biggest losers were Nifty PSU Bank (down 1.58 per cent), Nifty Bank (down 1.26 per cent or 494 points at 38624)  and Nifty Financal Services (down 1.22 per cent).
In the broader markets Nifty Mid Cap 100 (down 0.69 per cent) and Nifty Small Cap 100 (down 0.50 per cent) indices were losers. 
Here are key triggers to watch out for, when markets reopen on Friday:
1) US Markets were trading with great strength at the time of filing of the story. Dow 30, S&P 500 and Nasdaq Composite were up 2.18 per cent, 1.78 per cent and 1.31 per cent respectively. Today's closing and Dow Futures and SGX Nifty's movement on Friday will play a crucial role in the direction doestic markets take when they reopen tomorrow.
 Source: Reuters
Also Read: US markets recover strongly after initial hiccups, post inflation data announcement
2) Rupee Vs Dollar: 
Rupee traded in a narrow range and settled 5 paise lower at 82.38 against the US dollar on Thursday as risk aversion sentiment among investors weighed on the local unit. At the interbank foreign exchange, the rupee opened at 82.30 against the US dollar, then fell further to close at 82.38, registering a fall of 5 paise over the last close. It was moving in a tight range of 82.25 to 82.42.
On Wednesday, the rupee fell by 12 paise to close at 82.33 against the greenback.
"Spot USD/INR has been trading in the narrow range this week amid the central bank intervention on both sides. In the near-term, spot USD/INR is having resistance at 82.85 and support at 82.10," Dilip Parmar, Research Analyst, HDFC Securities said.
"We expect the USDINR (Spot) to quote in the range of 82.20 and 82.80," Gaurang Somaiya, Forex & Bullion Analyst, Motilal Oswal Financial Services said. USDINR 27 October 2022 futures closed at 82.4175  down by 0.0212 per cent. 
Commodity and Currency expert Anuj Gupta recommends a Sell on 27 October USDINR futures at 82.80 with a stop loss of 83.10 and target of 82. Inputs from PTI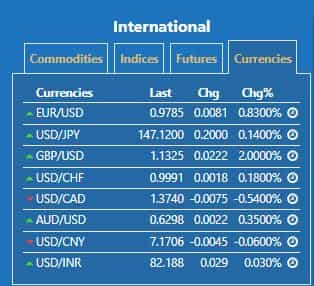 Source: Comex
3) Commodities
US Inflation data at 8.2 per cent in September could force the US Federal Reserve to increase rate further, Gupta said. This will likely strengthen Dollar which moves inversely to Gold and Silver. In India, some of the weakness may be negated as Rupee's weakness against the USD will provide the necessary support to the bullion and trim some losses. MCX Gold and Silver futures fell sharply after the data was out, taking cues from their internationnal peers. However, the recovered towards the end of the Thursday trading session.
Also Read: US inflation data dents mood in bullion market; Sell MCX Gold, Silver futures, says analyst
4) Volatility Index: India VIX ended at 20.29, up by 0.57 per cent from the Wednesday closing at 20.18.
5) FII / DII data: Foreign Institutional Investors continued their selling spree on Thursday, offloading equities worth Rs 1,636.43 cr. Meanwhile, the Domestic Institutional Investors were net buyers of Indian stock and purchased shares worth Rs 753.29 cr. 
6) Nifty, Nifty Bank Strategy: Managing Editor Anil Singhvi puts support at 16850-16950 while resistance at 17175 and 17225. As for Bank Nifty support is seen at 38200-38300 while resistance is seen at 39000-39200. Singhvi said that Indian markets may see a big move on Friday folloeing their US counterparts.
7) Technical Analyst Nilesh Jain of Centrum Broking expects Nifty50 to trade in a range between 16960 and 17200. Bank Nifty is expected to trade between 38500 and 39200. 
Also Read: Nifty50, Sensex top gainers and losers: Further downside likely in Wipro, says analyst, recommends sell; buy on Sun Pharma
8) Securities in Ban For Trade on 14 October 2022: DeltaCorp, Indiabulls Housing Finance.
9) Q2FY23 Results: Infosys, Mindtree, Angel One and Anand Rathi Wealth were among top companes that declared their quarterly earnings today. Companies that will announce their July-September uarter earnings include Bajaj Auto, Tata Elxsi, Shree Cement, Federal Bank, Oberoi Realty and Just Dial.
10) Bulk Deals: Over two dozen companies witnessed bulk deal action today and one could see stocks specific action tomorrow. Gravton Research Capital LLP bought 3,07,606 shares in Apollo Micro Systems Ltd at Rs 214.61 per share. It sold 3,07,606 shares at Rs 214.65 per share. Among other stocks that witnessed bulk deal action were Aarey Drugs & Pharm Ltd, Akshar Spintex Limited, Focus Lighting and Fixtures and Frog Cellsat Limited.
11) Most Active Contracts
 Source: NSE
12) Nifty Outlook: American brokerage Bofa Securities on Thursday cut its Nifty target by 1,000 points and now expects the 50-share index to trade at 17,500 points by the end of the year. The brokerage blamed "weakening macros" for the revision, including rupee depreciation and also slowing global growth. "We cut Nifty target to 17,500 (versus 18,500) on weakening macro; higher crude, rupee depreciation, global slowdown, China revival," it said in a note. In the last few months, there have been multiple revisions to the Nifty target by the brokerage as the volatility plays out in the financial markets. The Indian macros could "deteriorate" if risks on crude and currency risks play out, it said, adding that the possibility of further earning cuts cannot be ruled out. PTI
(Disclaimer: The views/suggestions/advises expressed here in this article is solely by investment experts. Zee Business suggests its readers to consult with their investment advisers before making any financial decision.)