While economic headwinds have organizations reconsidering their staffing needs and even shedding personnel, digital coworkers are flourishing. These are software robots or AI-powered assistances that can automate highly-repetitive tasks and processes to enhance productivity and allow human workers to focus on high-value tasks.  Roots Automation has built advanced, intelligent digital coworkers for the insurance industry.  Focusing on introducing operational efficiency, Roots' digital workers can be fully trained in 4-6 weeks and are in a perpetual state of learning to expand their repertoire; they already come pre-trained with knowledge of documents and processes specific to the insurance industry.  The results are impressive thus far within the industry; a 90% increase in claims capacity for a global insurer, an 80% increase in workflow efficiency, and an impressive 1250% return on investment for another insurance partner.
AlleyWatch caught up with Roots Automation CEO and Cofounder Chaz Perera to learn more about the business, the company's strategic plans, latest round of funding which brings the total funding raised to $21.8M, and much, much more…
Who were your investors and how much did you raise?
$10M Series A. Mission OG led the round, supported by Liberty Mutual Strategic Ventures, Vestigo Ventures and CRV.
Tell us about the product or service that Roots Automation offers.
Roots Automation brings together machine intelligence and human ingenuity in the form of advanced, intelligent Digital Coworkers.
Digital Coworkers leverage AI and machine learning to improve insurance operations, empowering insurance carriers to improve margins and increase operational efficiency.
Think of a Digital Coworker as your ideal employee – digitized. Digital Coworkers can think, read and intuit like a human. They are pre-trained to understand and interact with documents, systems and processes commonly found in Insurance. Their knowledge base is perpetually expanding with learning federated across Customers. They are always on, ultra-secure and deliver ROI from day one.
Digital Coworkers free your people of inefficient, repetitive, soul-destroying work – enabling them to be more creative, more collaborative and more innovative.
Finally, Digital Coworkers are a better alternative to robotic process automation (RPA) technology, which has fallen short of its promise to automate tasks in unstructured environments. Roots Automation's Digital Coworker ingests and analyzes both structured and unstructured data to work seamlessly with a company's human workforce – addressing a $100+ billion market opportunity to improve insurance operations through automation and AI.
What inspired the start of Roots Automation?
Four years ago, John Cottongim and I grabbed a coffee at a Starbucks near New York's City Hall and discussed why companies invested heavily in automation but consistently failed to realize its promise.
The reason for their investment: as evidenced then and still experienced today, acquiring talent is hard. The Insurance industry, for example, has maintained a 10% vacancy rate and its year-over-year cost to onboard talent is 20% higher than planned.
On automating process, our time at AIG and Mars – and conversations with peers across Industry – taught us three important things: (1) the total cost of ownership for most automation efforts was up to 40 times higher than planned; (2) companies needed a variety of financial, operational and technological skills to make an automation work; and (3) to make automation perform as richly as humans requires a compilation of technologies.
This collection of challenges led us to build our AI-first, industry-aware, coachable Digital Coworkers. The forming thesis: a truly turn-key automation product that interacts with, learns from, and shares knowledge amongst industry experts (i.e., our customers' employees) can overcome the skill, technology, and financial hurdles that have historically muted automation performance.
How is Roots Automation / Digital Coworkers different?
Our Digital Coworkers
Have deep domain expertise – by taking a vertical approach, our Digital Coworkers come armed with skills, knowledge and expertise of documents, systems and data commonly found in Insurance. This enables Digital Coworkers to make better decisions, faster.
Further, learning is federated across Digital Coworkers – meaning, for any new documents, systems or data that a Digital Coworker comes across, it shares the meta-knowledge with the entire network. In essence, Digital Coworkers are constantly getting smarter.
Digital Coworkers offer an integrated, holistic set of technologies and capabilities that come together in the form of a role (e.g. Claims Assistant) as opposed to other technologies such as RPA or IDP which only perform a very small aspect of a role (e.g. identify text or copy data from one system to another)
Compared to these same alternatives, ROI is delivered much faster with Digital Coworkers – which come pre-trained out of the box, don't need IT to configure systems, and are delivering value the day they are turned on.
Finally, there is a high barrier to entry for new entrants – to build and design everything we have (even through acquisition, the disruption and cost to integrated all capabilities would erode the cost benefits around the merger)
What market does Roots Automation target and how big is it?
Key vertical: Insurance Market
TAM is $100N+ for our Digital Coworker in Global insurance space
What's your business model?
SaaS – Subscription based model
How are you preparing for a potential economic slowdown??
Our Customers are already feeling the pain of the economic slowdown. Importantly, our Customers cannot find talent to solve critical operational challenges, nor are solutions like RPA working. And are turning to Digital Coworkers as a better, viable solution to improving operational performance and reducing costs.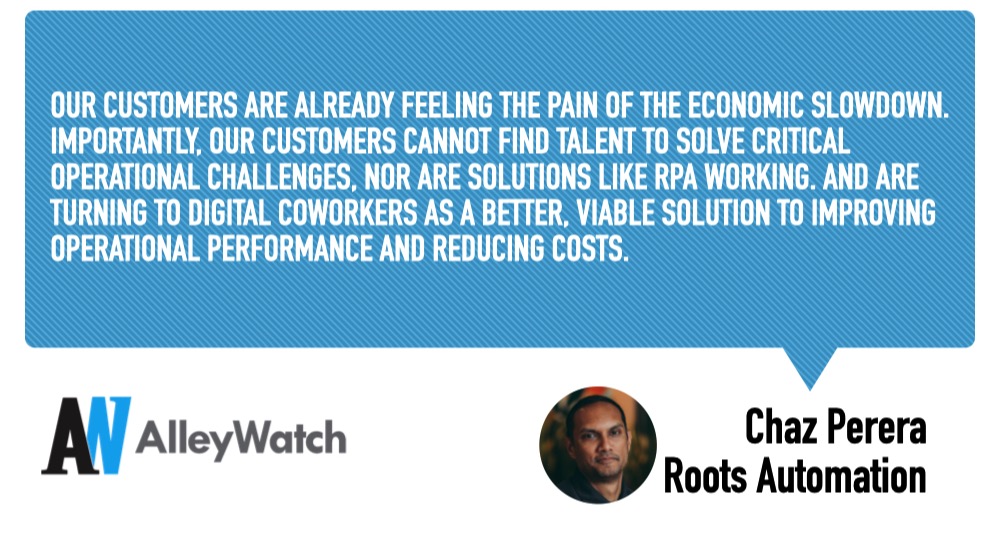 We have rock-solid ROI on many use cases our Digital Coworkers are currently working on. We expect to increase the number of use cases across the insurance space in addition to more document types, systems and processes which will increase interactions between customers and our Digital Coworkers, ensuring even greater value for our customers.
What was the funding process like?
Considering the global economic environment in 2022, challenging would be the word that springs to mind. However, as a testament to our product and the value that our customers realize from their Digital Coworkers, we were successful in our capital raise and enjoyed the ride along the way.
What are the biggest challenges that you faced while raising capital?
Like others raising at the same time, our biggest challenges were extended funding cycles, deeper diligence, and increased communications to all parties, all while continuing to manage and grow the business.
Like others raising at the same time, our biggest challenges were extended funding cycles, deeper diligence, and increased communications to all parties, all while continuing to manage and grow the business.
What factors about your business led your investors to write the check?
Strong technical moat – our AI-first approach has positioned us away from the traditional automation players (who simply cannot replicate what we have built – high barrier to entry for new participants in this space)
Strong leadership team – deep in Insurance, broad in technology
Unique vertical solution – delivers greater value for customers over a longer period of time. Greater repeatability in our solution.
What are the milestones you plan to achieve in the next six months?
Announce new customers
Continue to expand the team
Continue to improve our proprietary AI and automation capabilities
What advice can you offer companies in New York that do not have a fresh injection of capital in the bank?
Stretch the capital you have by focusing on activities that will ensure you are around in 12-24 months. Make tough decisions now. Always watch your burn.
What's your favorite restaurant in the city?
Oxalis – Brooklyn.
---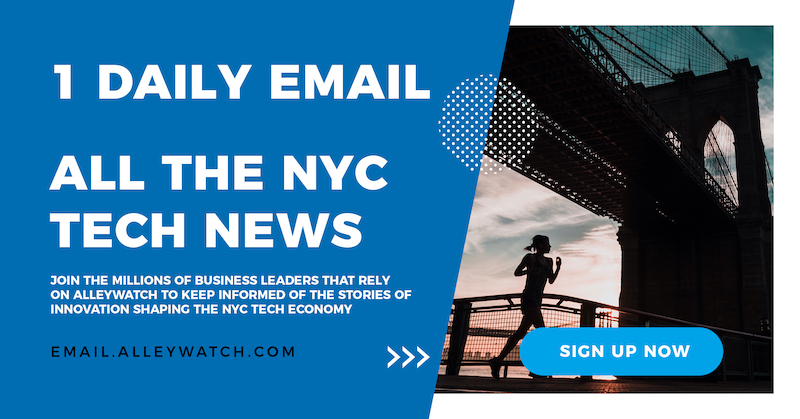 You are seconds away from signing up for the hottest list in Tech!Sign up today
---