When you're looking to upgrade from economy, but flying first or business class isn't in your budget, Delta Air Lines Premium Select might be a good compromise.
Delta Premium Select is a class that offers bigger seats, additional recline, an adjustable footrest and other goodies to enhance your international flight experience. These extra perks come with a bigger price tag, but is the extra cost really worth it?
Here's a look at Delta Premium Select to help you decide if splurging is the right call.
What to expect when flying Premium Select on Delta
It's understandable if you're confused about Delta Premium Select. Travelers flying within the U.S. won't see this option when booking tickets. Instead, this ticket type is generally available on select international long-haul flights only.
When you're flying Premium Select on Delta, you'll get:
A more comfortable seat. Your ticket includes a wider seat that offers an additional recline and an adjustable footrest.

Enhanced entertainment options. Watch TV and movies or listen to music on your own device during the flight, or use the complimentary noise-canceling headphones and embedded in-flight entertainment screen that's up to 13.3 inches.

Sky Priority service at the airport. Passengers receive accelerated check-in, airport security screening and priority baggage service. You're also among the first to board on the plane.

Exclusive amenities in the air. Enjoy a memory-foam pillow and plush blanket to curl up with during your flight. You'll also receive a Tumi amenity kit that includes an eyeshade, socks, Le Labo facial mist and lip balm, along with other travel products.

Premium food and beverage menu. Passengers receive complimentary wine, beer and spirits to go with an enhanced meal service.
How to book a Delta Premium Select ticket
To book a Delta Premium Select ticket, go to Delta.com or use the airline's app on your mobile device (Apple, Android) to book an international flight.
Enter your departure and arrival city, travel dates and the number of passengers. You can also check "Shop with Miles" if you want to use SkyMiles instead of cash. If you click on "Advanced Search," you'll see the option "Best Fares For." Clicking this option will allow you to select "Delta Premium Select" from a dropdown menu, further helping to narrow your search.
When your search results appear, search for flights that meet your budget and preferred departure and arrival time. Delta's website designates which flights have the "Lowest Fare" with a small marker in the upper left corner.
You can also switch to award flights by clicking the "Miles" button.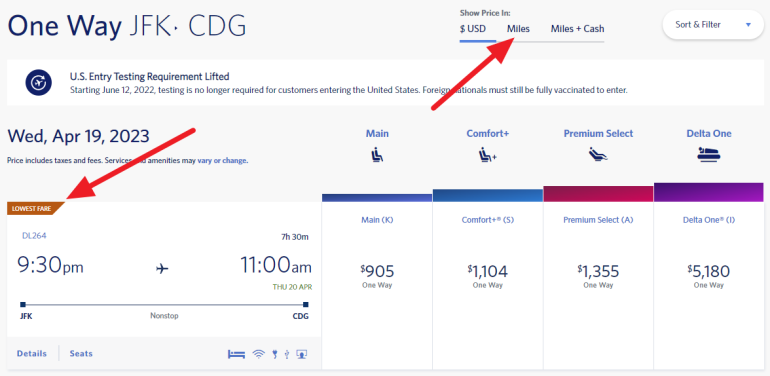 Once you've found a flight that meets your needs, click on the price to complete your booking. Delta may offer the option to upgrade to a fully refundable flight for a higher price.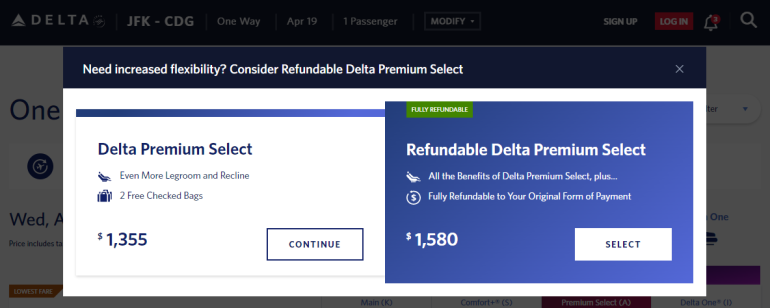 Continue the booking process by entering your name, selecting a seat and providing your payment information.
When paying for your flight, consider using a Delta credit card to earn additional miles or a travel card that offers flight protections. These protections generally include trip interruption/cancellation, trip delay and baggage delay benefits.
Delta Comfort Plus vs. Premium Select
Delta Comfort Plus offers another upgraded flight experience option when flying on several domestic and international flights, but keep in mind that it's not the same as Premium Select. When you're presented with the choice of Delta Comfort Plus versus Premium Select, it pays to know the difference between these upgraded fares.
In-flight experience. While Comfort Plus seats have up to three more inches of legroom compared with economy class seats, Premium Select seats are better. They are wider, can recline more and have an adjustable footrest.

Boarding priority. Premium Select customers board after Diamond Medallion members. They also board before parents traveling with young children, Delta Comfort Plus travelers and Platinum Medallion members. Delta Comfort Plus customers board after.

Route availability. Customers can book Comfort Plus on domestic and short-haul international flights. Premium Select is primarily available on certain long-haul international flights.

Pricing. Whether you're booking with cash or miles, Comfort Plus tickets are generally less expensive than Premium Select. However, both are more expensive than main cabin tickets.
Medallion status holders earn identical miles per dollar spent on each fare.
There are numerous ways to get good value flying Delta Premium Select or when redeeming rewards for Delta flights.
Book with miles
Instead of paying cash for your Delta Premium Select ticket, use your Delta SkyMiles instead. The difference in price between Main Cabin Extra or Comfort Plus is usually worth it when flying long distances. And they're typically much cheaper than premium Delta One award flights.
Book international travel with SkyTeam partners
You may be able to save points by booking flights on one of Delta's SkyTeam partner airlines, including Air France-KLM, Korean Air and Air Europa. Many travelers favor international airlines over domestic airlines for their superior in-flight service and airport lounge experience.
Use Virgin Atlantic miles to book flights
Although Virgin Atlantic isn't currently a part of the SkyTeam Alliance, it does have a relationship with Delta Air Lines. Travelers can book Delta flights using Virgin Atlantic miles and vice versa. Virgin Atlantic miles are easier to accumulate than SkyMiles since it is a transfer partner for more programs.
🤓Nerdy Tip
Virgin Atlantic fans will be happy to learn that the airline plans to join the Skyteam Alliance in early 2023.
Travel off-peak to save
During off-peak times, you can often find flights for cheaper than you would during busier travel periods. Whether you're paying for your flight with cash or miles, if you have the flexibility of when you can travel, you'll save if you can book during off-peak times. While you may not want to travel in the middle of winter, you can also save by flying during the shoulder seasons.
For example, traveling in September or October still offers good weather in most locations, while fewer crowds because kids are back in school.
Delta Premium Select recapped
International travelers on Delta may want to consider booking a Premium Select ticket on their next flight. It offers a premium cabin experience without the much higher cost of flying business or first class. These flights can be booked with cash or Delta SkyMiles, so compare your options to determine which is the better value.
For the difference in price, it's a worthwhile upgrade compared with Comfort Plus on long-haul international flights. You'll receive a wider seat, more legroom and an adjustable footrest, in addition to complimentary adult beverages to go with an enhanced in-flight menu.
How to maximize your rewards
You want a travel credit card that prioritizes what's important to you. Here are our picks for the best travel credit cards of 2022, including those best for: