By Lambert Strether of Corrente
Patient readers, the Politics section is not nearly as robust as it could be, but I have matters to attend to, and so will have to provide a heaping offering on Monday. –lambert
Bird Song of the Day
Vinaceous Dove, Gambela Peoples, Ethiopia. "Song from a bird sitting at mid-height in a tall tree in a clearing surrounded by disturbed dry forest."
* * *
Politics
"But what is government itself, but the greatest of all reflections on human nature?" –James Madison, Federalist 51
"Here's food for thought, had Ahab time to think; but Ahab never thinks; he only feels, feels, feels" –Herman Melville, Moby Dick
"So many of the social reactions that strike us as psychological are in fact a rational management of symbolic capital." –Pierre Bourdieu, Classification Struggles
Biden Administration
"Biden touts 'unprecedented' U.S. actions at Egypt climate summit" [Politico]. "Those include his signing of the United States' biggest-ever climate bill, a $100 million contribution to a global climate fund and new efforts announced Friday to reduce planet-warming pollution from the oil and gas industry. And, he noted, he rejoined the 2015 Paris climate agreement that former President Donald Trump had abandoned — "I apologize we ever pulled out of the agreement," he said. The raft of ambitious climate actions is "going to shift the paradigm for the United States and the entire world," Biden said. He added: "We're proving a good climate policy is a good economic policy." Despite those words, the U.S. has faced continued grumbling throughout this week's conference about Washington's stinginess in providing the hundreds of billions of dollars in climate aid that representatives of developing nations are demanding…. Other potential mood spoilers for Biden's appearance include food and water shortages that have left conference attendees cranky, human rights and privacy violations by the Egyptian government, and fresh scientific evidence that all this climate diplomacy is failing to prevent catastrophic rises in temperatures." • A hundred million? Really? Biden checking for loose change in the White House couches?
2022
The Senate

The House:

Raining on the parade:

Look I'm as happy as anyone about the outcome as anyone but the GOP won 52% of the popular vote. The Dems need to reflect on why the majority of voters didn't like our agenda. https://t.co/ssbINaHUJg

— Matt Stoller (@matthewstoller) November 11, 2022

I guess winning the election while losing the popular vote is only bad when Republicans do it. Unsurprisingly.

* * *

NY: "Thursday's Results Are In: New York Democrats Love to Lose" [Hellgate]. "Just 48 hours after a tense Election Day, it's becoming clear that New York Democrats bungled both their chances of keeping the U.S. House of Representatives, and their own supermajorities in the state legislature. Democrat Max Rose would have won his challenge against Republican Nicole Malliotakis in Staten Island and South Brooklyn, had state Democrats not fucked up the chances to implement the redistricting maps they drew. Instead, they got greedy and their maps were vulnerable to a lawsuit funded by a Long Island billionaire who didn't want an offshore wind farm near his property. ('I just keep thinking of the old adage: ,' a Democratic strategist told Politico. 'There was a way to draw those lines to make more Democratic seats and withstand a legal challenge. By overshooting, we're now going to lose two or three more seats than we need to.')" • That's a good adage! Though apparently it doesn't apply to Long Island squillionaires.

PA: "Big John Fetterman Can Save the Democratic Party — if the Democrats Let Him" (interview) [Rolling Stone]. Oh gawd, the headline. Let the hagiography begin. Can we, just this one time, separate tactics and strategy from the person employing them? Worth a read, because Fetterman has some interesting things to say: "Just this morning, I tweeted about the micro-dosing revolution. Pennsylvania is the mushroom capital of the world, quite literally. We produce more mushrooms than anybody. And we have this other plant, just a plant [marijuana], that could be an enormous boon from a health and welfare [perspective], from an industry [perspective], from all kinds of perspectives. And that's another thing that we could get out in front of, quite frankly. It's that libertarian thing where it's like, "Where do you get off telling me what I am able to do or not do for my own well-being and health when these are things that I can grow in my backyard with tomatoes." And I think everyone's finally realizing how truly absurd this view is. And you don't have to have an R [or a] D after your name to be disgusted by that kind of prohibitionist mindset." • Well, great for Pennsylvania, but holy moley, I was I know people who were doing pyschedelics before "libertarianism" was even a word.
2024
"Biden's Lost Marbles" [National Review]. "n the first day of November, President Biden visited the OB Johnson Park and community center in Hallandale Beach, Fla., to deliver remarks on 'protecting Social Security and Medicare and lowering prescription drug costs,' as the White House described the event. Unsurprisingly, Biden departed from the main topic, and in the middle of his remarks he executed the rare double-cringer: 'Inflation is a worldwide problem right now because of a war in Iraq. . . . Excuse me, the war in Ukraine. I'm thinking of Iraq because that's where my son died.' This was the second time in a month that the president inaccurately claimed that his son Beau died in Iraq. Beau Biden was deployed in Iraq from October 2008 to October 2009, and in 2013 he had a 'small lesion' removed from his brain and was diagnosed with brain cancer. In 2015, Beau Biden passed away from that cancer. President Biden has contended several times, without medical proof, that his son's brain cancer was caused by burn pits used on military bases in Iraq. As the New York Times' chief White House correspondent, Peter Baker, gently put it, Biden's 'misstatements have become more pronounced, and more noticed, now that he has the spotlight of the presidency constantly on him.'"
Democrats en Déshabillé
Patient readers, it seems that people are actually reading the back-dated post! But I have not updated it, and there are many updates. So I will have to do that. –lambert

I have moved my standing remarks on the Democrat Party ("the Democrat Party is a rotting corpse that can't bury itself") to a separate, back-dated post, to which I will periodically add material, summarizing the addition here in a "live" Water Cooler. (Hopefully, some Bourdieu.) It turns out that defining the Democrat Party is, in fact, a hard problem. I do think the paragraph that follows is on point all the way back to 2016, if not before:

The Democrat Party is the political expression of the class power of PMC, their base (lucidly explained by Thomas Frank in Listen, Liberal!). ; if the Democrat Party did not exist, the PMC would have to invent it. . ("PMC" modulo "class expatriates," of course.) Second, all the working parts of the Party reinforce each other. Leave aside characterizing the relationships between elements of the Party (ka-ching, but not entirely) those elements comprise a network — a Flex Net? An iron octagon? — of funders, vendors, apparatchiks, electeds, NGOs, and miscellaneous mercenaries, with assets in the press and the intelligence community.

Note, of course, that the class power of the PMC both expresses and is limited by other classes; oligarchs and American gentry (see 'industrial model' of Ferguson, Jorgensen, and Jie) and the working class spring to mind. Suck up, kick down.

* * *
Realignment and Legitimacy
"Increasing prosocial behavior and decreasing selfishness in the lab and everyday life" [Nature]. The Abstract: "The tension between selfishness and prosocial behavior is crucial to understanding many social interactions and conflicts. Currently little is known how to promote prosocial behaviors, especially in naturally occurring relationships outside the laboratory. We examined whether a psychological micro-intervention would promote prosocial behaviors in couples. Across two studies, we randomized dyads of couples to a micro-intervention (15 min), which increased prosocial behaviors by 28% and decreased selfish behaviors by 35% a week later in behavioral games in a dose–response manner." • Interesting result. I cannot dredge up the link, but I seem to recall that increased "prosocial behavior" was recently recommended by one of the groups doing Covid post-mortems. In any case, I went looking for the micro-intervention. Here it is:

The micro-intervention trained skills previously shown to promote psychological flexibility34. The micro-intervention took on average 15 min. In a first step, participants were instructed to describe struggles and stress they are currently experiencing within their daily life. In a second, they were asked about people, activities, and other things in their lives that are genuinely important to them (i.e., values). Using an experiential metaphorical exercise, participants were asked to experience how their struggles interfered with the things they valued. Then, skills of present moment awareness and acceptance were practiced with the goal of experiencing more flexibility to make room for the things with which they struggle. Thereafter, the relation to their values was once again probed. The overarching goal of the short exercise was to experience that pushing away, avoiding, and struggling with stress makes it more difficult to interact with meaningful individuals and do meaningful activities. The introduced skills aimed to help participants be aware of this, choose whether to use acceptance, and to consciously focus on meaningful people and activities.

This flexibility training was written down including practice instructions within a dairy that was given between T1 and T2. Participants were instructed to practice the exercises once a day. The skills included in the diary were the same as in the exercise and included present moment awareness (via an audio file), thinking about their personal values, acceptance, contemplating how to engage more with their values, as well as reflecting about barriers to implementing valued orientated behavior.

This intervention doesn't strike me as that "micro." OTOH, it is something that could easily become part of one's daily routine. It's also the very reverse of what one does on social media. It also strikes me that "pro-social" = "increase social capital accumulation" (value neutral, importantly).

Social capital in churches:

With a bill; call the local church, food pantries; the church, daycare centers; the church disaster shelters; the church. Nearly every sense of aid comes from the church. Even though they often times spew propaganda, rejecting that often times leaves people even more isolated & 2

— Danielle_Kirk731 (@DKirk731) November 10, 2022
#COVID19
Lambert here: I can't call a winter surge, though we'll really have to wait for Thanksgiving travel. However, high transmission (CDC), the elevation and continued increase in positivity (Walgreens), and the steady takeover of BQ.1* (CDC; Walgreens) are all a little unsettling (as is the apparent proliferation of variants). Stay safe out there!
* * *
• Speculation on "immune exhaustion":
You know what's coming next…

Multi drug resistant bacteria.

Many are already here, but this is going to get really out of control. Trying to treat infections in immunodeficiency patients is a great way to make loads of resistant bacteria/viruses.

— Noor Bari (@NjbBari3) November 10, 2022
Not implausible.
* * *
• The office:
New CDC "community levels" are out

Under the pre-Feb 25th guidance, universal indoor masking would be recommended in 74% of counties. Under the new guidance, universal indoor masking is recommended in 3% of counties.https://t.co/6zX9U89rRt pic.twitter.com/yVFNMPf0PB

— wsbgnl (@wsbgnl) November 11, 2022
* * *
Transmission
Here is CDC's interactive map by county set to community transmission. (This is the map CDC wants only hospitals to look at, not you.)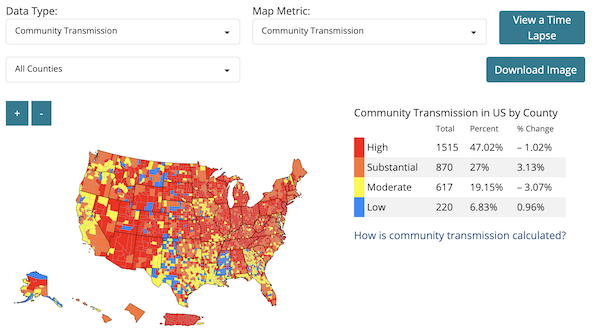 Contrast CDC's infamous "green map" (above). Don't use it!
Positivity
From the Walgreen's test positivity tracker, published November 11: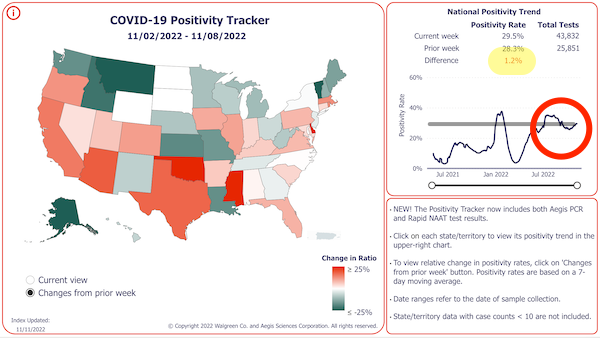 1.2%. Increase.
Wastewater
Wastewater data (CDC), November 7: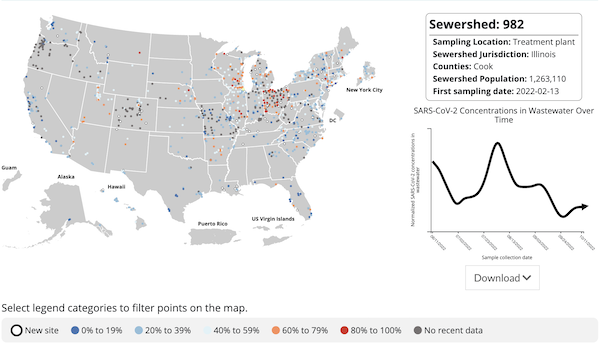 Lambert here: Each dot is a sewershed that you can click for data. Since yesterday we found elevated levels in JFK/LGA's county, Queens, I looked today at ORD's county, Cook (one of two counties, actually). Not elevated, which is good news, all the more because Illinois 'runs hot" compared to most other states.
November 6: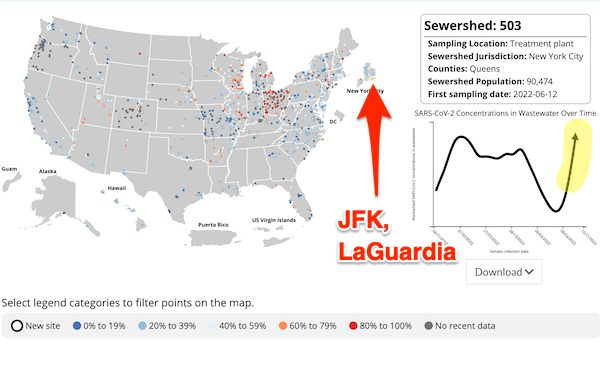 Variants
Lambert here: It's beyond frustrating how slow the variant data is. Does nobody in the public health establishment get a promotion for tracking variants? Are there no grants? Is there a single lab that does this work, and everybody gets the results from them? [grinds teeth, bangs head on desk]. UPDATE Yes. See NC here on Pango. Every Friday, a stately, academic pace utterly incompatible with protecting yourself against a variant exhibiting doubling behavior.
UPDATED Variant data, national (Walgreens), published November 11: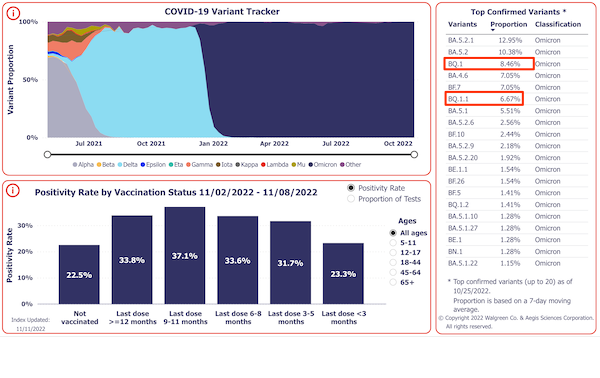 Lambert here: BQ.1* moving along quite briskly.
Lambert here: Moving to the date at bottom left; the date in the notes section is off, just as the date in the positivity chart was off.
UPDATED Variant data, national (CDC), October 22 (Nowcast off):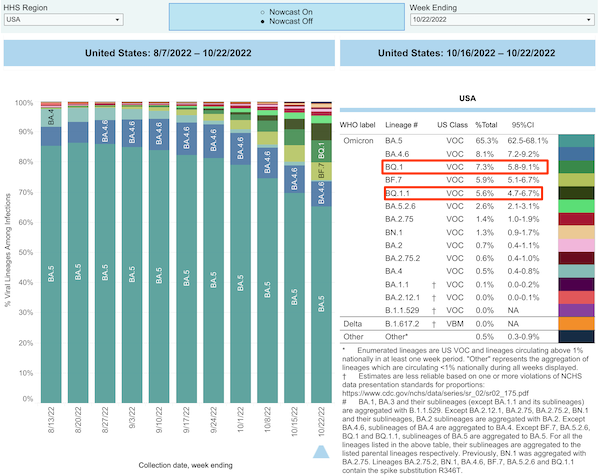 BQ.1* moving along quite briskly. New York/New Jersey (Region 2) numbers are higher: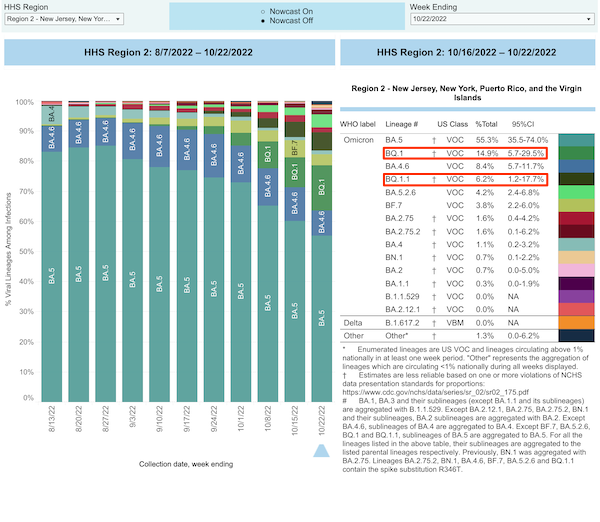 UPDATED And as a check, since New York is a BQ.1* hotbed, New York hospitalization continues to increase, updated November 10: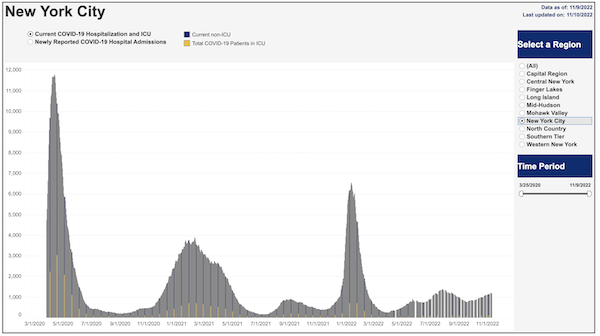 Lambert here: Continued rise.
• Meanwhile: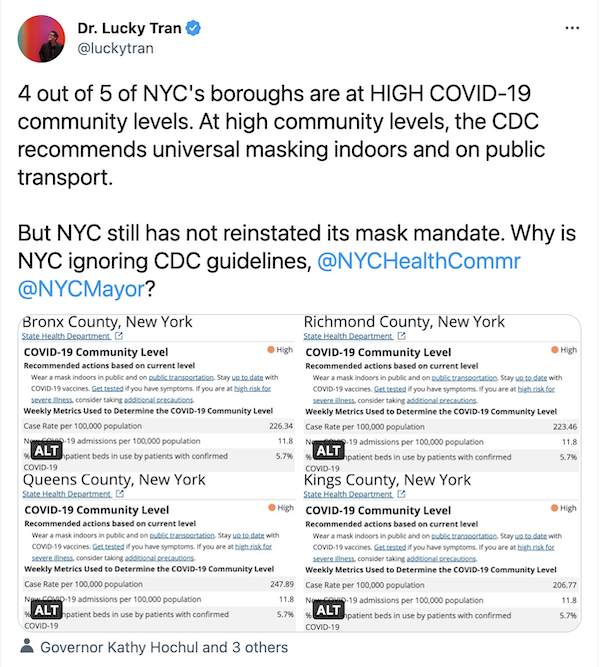 Even CDC's infamous "Green Map" (which includes hospitalization as a lagging indicator) says New York City is in trouble….
Deaths
Death rate (Our World in Data):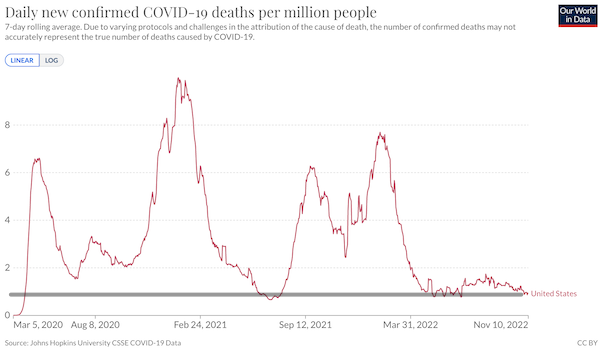 Total: 1,099,856 – 1,099,494 = 362 (362 * 365 = 132,130, which is today's YouGenicist™ number for "living with" Covid (quite a bit higher than the minimizers would like, though they can talk themselves into anything. If the YouGenicist™ metric keeps chugging along like this, I may just have to decide this is what the powers-that-be consider "mission accomplished" for this particular tranche of death and disease).
It's nice that for deaths I have a simple, daily chart that just keeps chugging along, unlike everything else CDC and the White House are screwing up or letting go dark, good job.
Stats Watch
There are no official statistics of interest today.
* * *
NOTE: Readers, I am filing the FTX meltdown material under "Guillotine Watch" instead of here, under "The Bezzle," because that's obviously where it goes.
Tech: "Inside Elon Musk's first meeting with Twitter employees" (transcript) [The Verge]. Good scoop for the Verge. One interesting angle:
I think there's this transformative opportunity in payments. And payments really are just the exchange of information. From an information standpoint, not a huge difference between, say, just sending a direct message and sending a payment. They are basically the same thing. In principle, you can use a direct messaging stack for payments. And so that's definitely a direction we're going to go in, enabling people on Twitter to be able to send money anywhere in the world instantly and in real time. We just want to make it as useful as possible.
This would be useful, especially to "creators" (horrid word) like writers, artists, photographers. It would also give PayPal, a ginormous monopoly, a competitor (looking at you, Matt Stoller). I will say Musk has brass ones.
Tech: The Twitter:
HE CAN'T KEEP GETTING AWAY WITH IT https://t.co/nvQUKoVpFp

— Lee 🖖 Carter (@carterforva) November 11, 2022
Tech: The Twitter:
Notice how all those same people who said social media firms could do what they liked (secretly changing the algorithms and banning people for the wrong politics) are suddenly the ones bleating about how dangerous it is that Musk is changing things at Twitter

— Jonathan Cook (@Jonathan_K_Cook) November 11, 2022
I don't love Musk. But the current Twitter dogpile looks to me like our organs of state security + the upper reaches of the PMC in the media being really ticked off they've lost control over a major platform and can't censor their political opponents anymore. (Reckless as usual, they're ignoring that if they bring Twitter down, they'll hurt people who use Twitter as the public utility it should be, and evaporate a lot of social capital for dull normals like aerosol scientists, masking communities, and writers.)
Today's Fear & Greed Index: 63 Greed (previous close: 52 Neutral) [CNN]. One week ago: 54 (Neutral). (0 is Extreme Fear; 100 is Extreme Greed). Last updated Nov 10 at 12:36 PM EST.
Guillotine Watch
Readers, I didn't think I needed to waste a lot of time looking deeply into what SBF was doing, after writing "Mothers, Lock Up Your Sons So They Don't Practice "Yield Farming" in Crypto" (based on this article by Bloomberg, "Sam Bankman-Fried Described Yield Farming and Left Matt Levine Stunned"). Indeed, it was only a matter of time.
"Sam Bankman-Fried steps down as FTX CEO as his crypto exchange files for bankruptcy" [CNBC]. • "FFS, put him on the next flight to Venezuela!" (For future reference, SBF = Sam Bankman-Fried.)
From the heart of the PMC:
Sbf's parents are Stanford lawyers who are big on ethics, alameda CEO's dad runs economics department at MIT…another win for America's elite educators

— Bill Bishop (@niubi) November 11, 2022
Stoller untangles the scam that is crypto:
The crypto scam was always:
1) Print fake money.
2) Use fake money to buy political power.
3) Use political power to exchange fake money for real money.

They almost succeeded, but it fell apart in the nick of time.https://t.co/qktRHPcmaU

— Matt Stoller (@matthewstoller) November 9, 2022
SBF's cuddle puddle:
Scoop: Sam Bankman-Fried invested hundreds of millions in Sequoia Capital, Paradigm, Multicoin and Altimeter, the same VC firms that backed FTX. These ties show just how deeply entangled Silicon Valley VC firms are in SBF's collapsing crypto empire. https://t.co/y48ne3IJQW

— Kate Clark (@KateClarkTweets) November 10, 2022
Big if true, and yes, the FTX org chart I printed in Links this morning was, indeed, obfuscatory:
A highly credible source very close to the Sam/FTX situation on what was going on internally: pic.twitter.com/iGO3sbvRr0

— Autism Capital 🧩 (@AutismCapital) November 10, 2022
What a shame, "effective altruism" goes belly-up:
🚨 JUST IN —

The entire team behind the FTX Future Fund, the Sam Bankman-Fried philanthropy, has resigned.

A holy-shit moment in the world of effective altruism. pic.twitter.com/5YY886OdNh

— Teddy Schleifer (@teddyschleifer) November 11, 2022
Presumably because effective altruism is a money-laundering/virtue-cleansing scam.
* * *
And here an amusing article from the crypto press, which I never link to, since they're obviously in the business of roping in the marks:
"From Billionaire to Nearly Homeless: The Tale of 3 Crypto CEOs" [BeInCrypto]. • That's a damn shame.
The Gallery
Bonnard can draw!
Pierre Bonnard, The Arc de Triomphe, c. 1897 (published 1899) #pierrebonnard #printsanddrawings https://t.co/SmIIgaY6Tl pic.twitter.com/p67D2qRM9Q

— Pierre Bonnard (@pierre_bonnard) November 11, 2022
Class Warfare
"Pittsburgh newspaper workers go on strike over unfair labor practice" [Guardian]. "More than 100 workers represented by five labor unions at the Pittsburgh Post-Gazette are currently on an unfair labor practice strike, including production, distribution, advertising and accounts receivable staff. The strike initially began after the newspaper's management, Block Communications owned by the Block family, cut off health insurance for employees on 1 October after refusing to pay an additional $19 a week per employee to maintain the existing coverage. 'Having health insurance is one of the most important parts of the middle class. It was the final straw for us – we were able to say this was an unfair labor practice and we walked off the job,' said Kitsy Higgins, an advertising representative who's been at the Post-Gazette for one year. Higgins said the newspaper's management had tried to get workers to accept a healthcare plan with a $14,000 deductible that they rejected because it was unaffordable to use."
News of the Wired
"Reclaiming (Mobile) Privacy with GrapheneOS" [マリウス]. This is extremely nerdy, useful for the sort of person who installs their own OS on their cellphone. Here's a useful nugget, however: "In addition there's also a network permission toggle that's exclusive to GrapheneOS. This toggle shows as a checkbox on the 'Install app' popup that appears when a user opens an APK. Unchecking network permissions would prohibit the specific app from directly and indirectly accessing any of the available networks. That's a handy feature for apps that won't need network access anyway – e.g. a gallery or a launcher – to make sure they won't do shady things." •
Oh noes:
Mastadon usernames are case sensitive!

I repeat: Mastodon usernames are case sensitive!

— Caitlin 🏜 🍰 (@sickbaycheese) November 11, 2022
"Mastodon." So, I have to get at least two names? One with initial caps, the other camel-cased? Or three? If I do, can I alias one account to the other? Like "toot" for "tweet," who thought this was a good idea?
Dad.
Island pic.twitter.com/BaK6slmkpV

— Moose Allain Ꙭ (@MooseAllain) May 23, 2020
* * *
Contact information for plants: Readers, feel free to contact me at lambert [UNDERSCORE] strether [DOT] corrente [AT] yahoo [DOT] com, to (a) find out how to send me a check if you are allergic to PayPal and (b) to find out how to send me images of plants. Vegetables are fine! Fungi and coral are deemed to be honorary plants! If you want your handle to appear as a credit, please place it at the start of your mail in parentheses: (thus). Otherwise, I will anonymize by using your initials. See the previous Water Cooler (with plant) here. From AM: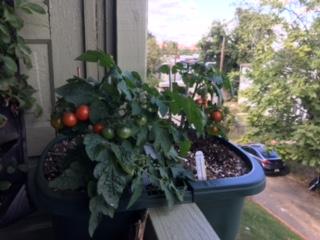 AM writes: "October tomatoes." A nice crop, and a good reminder that you don't necessarily need to own or rent land to have a garden." Not a lot of garden photos this year, so far. No reason to hesitate about sending them in before the snow flies!
* * *
Readers: Water Cooler is a standalone entity not covered by the annual NC fundraiser. So if you see a link you especially like, or an item you wouldn't see anywhere else, please do not hesitate to express your appreciation in tangible form. Remember, a tip jar is for tipping! Regular positive feedback both makes me feel good and lets me know I'm on the right track with coverage. When I get no donations for five or ten days I get worried. More tangibly, a constant trickle of donations helps me with expenses, and I factor in that trickle when setting fundraising goals:
Here is the screen that will appear, which I have helpfully annotated: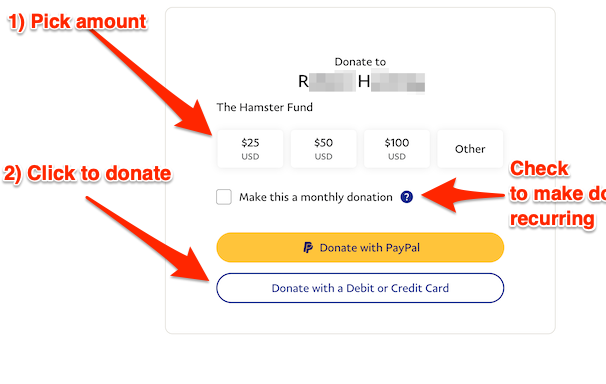 If you hate PayPal, you can email me at lambert [UNDERSCORE] strether [DOT] corrente [AT] yahoo [DOT] com, and I will give you directions on how to send a check. Thank you!